Yedoo Mula V-Brake red Tretroller Dog Scooter
---
if(!document.getElementById('paypal-smart-payment-script')) { var script = document.createElement("script"); script.type = "module"; script.id = "paypal-smart-payment-script"; script.src = "https://cdn03.plentymarkets.com/h220yvteutim/plugin/9/paypal/js/smartPaymentScript.js"; script.setAttribute("data-client-id", "AWB5IMvaphjNZyIh_Sli7ow8o3DtkHCHuIolu0aEtu8ks3l9G60Vn20Wl_hZJ0PJU5HxBpfz-lN2ElpB"); script.setAttribute("data-currency", "EUR"); script.setAttribute("data-client-token", "eyJicmFpbnRyZWUiOnsiYXV0aG9yaXphdGlvbkZpbmdlcnByaW50IjoiYjljNjUzOTYxODI2NTlkN2RiNjNlZjY3MzJlNThjN2Q5NDdiYjIzZWQ4NDdkY2FjN2E5ZWVlZmMyODc3YmQ0YXxtZXJjaGFudF9pZD1yd3dua3FnMnhnNTZobTJuJnB1YmxpY19rZXk9ajJmYzJqcHhkZzZ2cDg0ZiZjcmVhdGVkX2F0PTIwMjItMTAtMDRUMDk6NTI6MTYuNTQ0WiIsInZlcnNpb24iOiIzLXBheXBhbCJ9LCJwYXlwYWwiOnsiaWRUb2tlbiI6bnVsbCwiYWNjZXNzVG9rZW4iOiJBMjFBQU43NWthZ3QxZ09rMGFadEdmNEU5Tk53NkFNRzJhQWRMLUpoMDRlVHdNbDRRVGdfTDBEdXJLN0dBcVQtNUNTOGpLVmdLb0c0cEJRb1FfSjJha3dYTVdfVWdRbldBIn19"); script.setAttribute("data-append-trailing-slash", ""); script.setAttribute("data-locale", "de_DE"); document.body.appendChild(script); }
if(typeof renderPayPalButtons === 'function') { renderPayPalButtons('633c09c37a700', 'paylater', 'paypal', 'rect', 'gold'); } else { document.addEventListener('payPalScriptInitialized', () => { renderPayPalButtons('633c09c37a700', 'paylater', 'paypal', 'rect', 'gold'); }); } if(typeof renderPayPalButtons === 'function') { renderPayPalButtons('633c09c37a700', 'paypal', 'buynow', 'rect', 'gold'); } else { document.addEventListener('payPalScriptInitialized', () => { renderPayPalButtons('633c09c37a700', 'paypal', 'buynow', 'rect', 'gold'); }); }
if(!document.getElementById('paypal-smart-payment-script')) { var script = document.createElement("script"); script.type = "module"; script.id = "paypal-smart-payment-script"; script.src = "https://cdn03.plentymarkets.com/h220yvteutim/plugin/9/paypal/js/smartPaymentScript.js"; script.setAttribute("data-client-id", "AWB5IMvaphjNZyIh_Sli7ow8o3DtkHCHuIolu0aEtu8ks3l9G60Vn20Wl_hZJ0PJU5HxBpfz-lN2ElpB"); script.setAttribute("data-currency", "EUR"); script.setAttribute("data-client-token", "eyJicmFpbnRyZWUiOnsiYXV0aG9yaXphdGlvbkZpbmdlcnByaW50IjoiYjljNjUzOTYxODI2NTlkN2RiNjNlZjY3MzJlNThjN2Q5NDdiYjIzZWQ4NDdkY2FjN2E5ZWVlZmMyODc3YmQ0YXxtZXJjaGFudF9pZD1yd3dua3FnMnhnNTZobTJuJnB1YmxpY19rZXk9ajJmYzJqcHhkZzZ2cDg0ZiZjcmVhdGVkX2F0PTIwMjItMTAtMDRUMDk6NTI6MTYuNTQ0WiIsInZlcnNpb24iOiIzLXBheXBhbCJ9LCJwYXlwYWwiOnsiaWRUb2tlbiI6bnVsbCwiYWNjZXNzVG9rZW4iOiJBMjFBQU43NWthZ3QxZ09rMGFadEdmNEU5Tk53NkFNRzJhQWRMLUpoMDRlVHdNbDRRVGdfTDBEdXJLN0dBcVQtNUNTOGpLVmdLb0c0cEJRb1FfSjJha3dYTVdfVWdRbldBIn19"); script.setAttribute("data-append-trailing-slash", ""); script.setAttribute("data-locale", "de_DE"); document.body.appendChild(script); }
---
Versandgewicht 0 Gramm *
*Innerhalb Deutschland Versandkostenfrei bei Versandgewicht 0
Yedoo Mula 2019 red Nachfolger Mezeq V-Brake
Farbe : rot
Die neue Top-Version ist noch stabiler geworden.
Der neue Mula ist der Nachfolger des Mezeqs V-Brake und ist durch die neue Rahmenkonstruktion kürzer und agiler geworden, der Raum für den Fahrer sowie Trittbrettlänge wurde gleich groß gehalten; Alulenker mit größerem Einstellungsumfang. Dank des idealen Verhältnisses der Rädergröße (20"/16") und Spurbreite fährt der Roller schlicht, schnell und sicher. Er eignet sich für die Stadt, Terrain auch für größere Entfernungen.
Das Trittbrett wurde in so einer ausgeklügelten Art und Weise im Rahmen integriert, so dass die Fahrzeughöhebei eingeklappten Mittelständer nicht verringert wird.
Der neue Rahmen bietet großzügigen Platz für den Fahrer und verbessert die Fahreigenschaften des Rollers.
Aufgrund der kürzeren Gesamtlänge sowie Schnellspannhebel an der Radachse zur Demontage der Räder, wird der Transport erleichtert.
Die neuen Kenda Kontact Reifen können bis zu einem Druck von 4,5 bar aufgepumpt werden, wodurch ein höherer Fahrkomfort sowie weniger Rollwiderstand entsteht.
Optimale Fahreigenschaften für die Bewegung in der Stadt.
Neu sind auch die ergonomischen Griffe, sowie der legierte Alu-Lenker mit einem größeren Bereich der Höhenverstellung für Groß und Klein.
Technische Daten
Scooter
| | |
| --- | --- |
| Gewicht | 11 kg inkl. Mittelständer |
| Rahmen | Yedoo Hi-ten steel |
| Reifen | Kenda Kontact 20x1.75/16x1.75 |
| Felgen | Alu Holkammer Felgen |
| Bremsen | 2× Tektro Alu Felgenbremse |
| Naben und Lager | Novatec Alu Naben mit Schnellspannhebel & Industrie Lager |
| Vorbau | Zoom Alu |
| Headset | Neco alloy 1 1/8" |
| Bremshebel | Tektro Alu |
| Lenker | Yedoo Cross Alulenker |
| Griffe | Ergonomisch und schraubbar für individuelle Einstellung |
| Stand | Mittelständer |
Lieferung erfolgt im Original Karton teilmontiert.
Der Roller ist zu ca. 70% vormontiert.
Auf unserer Webseite findet Ihr entsprechende Aufbauvideos
* Es sind nur noch wenige Arbeitsschritte notwendig. Gerne sind wir Ihnen behilflich. Rufen Sie uns einfach an. Die Roller können auch bei uns im großen Showroom angesehen und gefahren werden. Selbstverständlich ist auch eine Abholung bei uns vor Ort möglich. Für Selbstabholer bieten wir auch einen Aufbau gegen Aufpreis( ab 20,00 Euro) an.
Kaufen Sie lieber gleich beim Tretrollerprofi.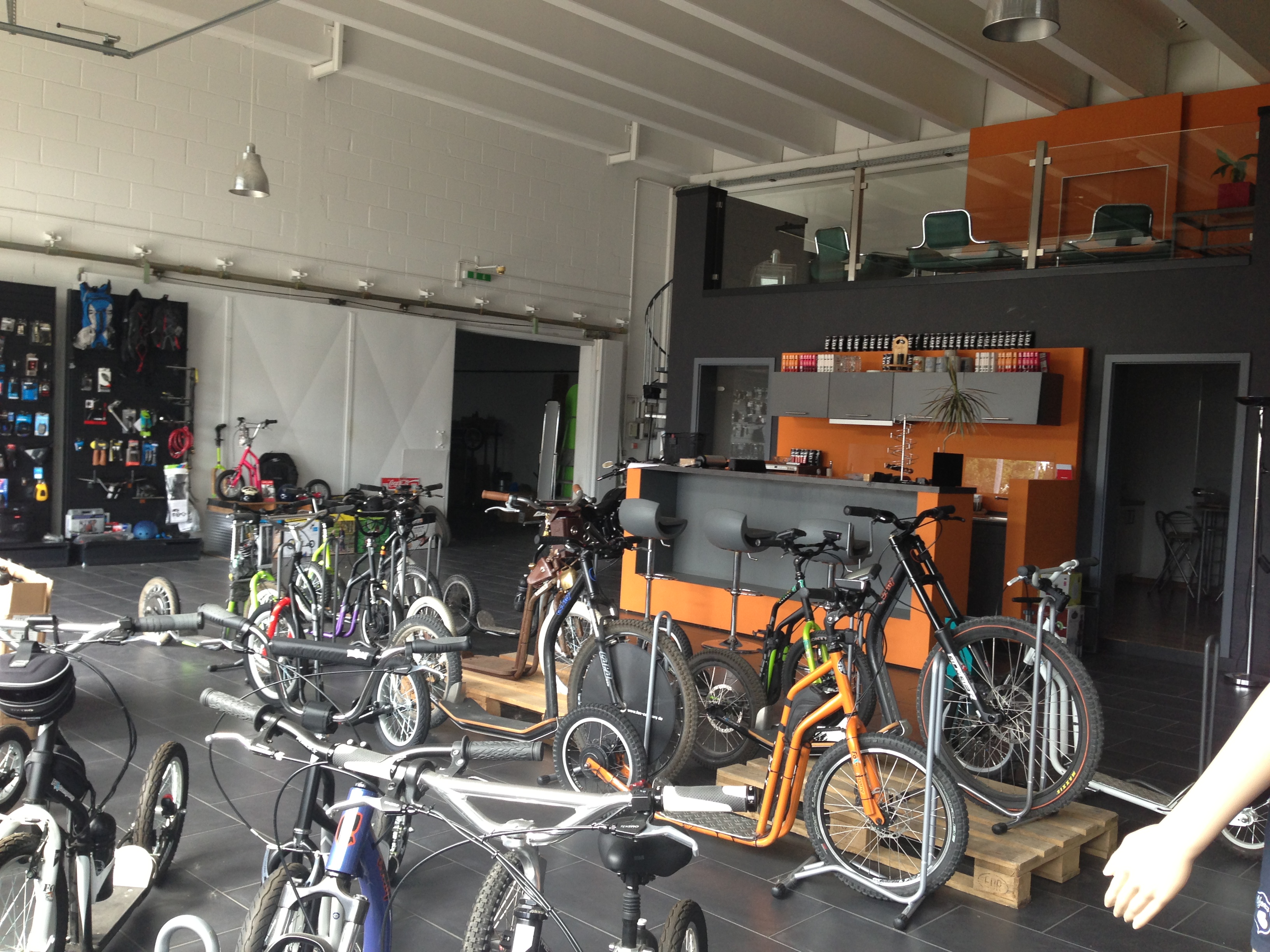 Daten / Dimensions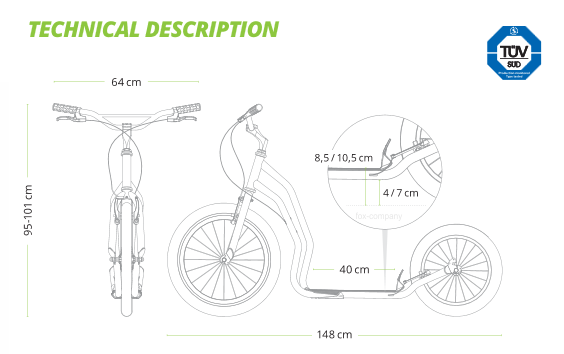 Länge / Length
148 cm
Trittbrett / Footboard
40 cm
Lenkerhöhe / Height of handlebars
95-101 cm
Lenkerbreite / Width of handlebars
64 cm
Bodenfreiheit / Ride height
4,5 / 6,5 cm

Trittbretthöhe

Hinterachse 2 Aufnahmepunkte

8 /10 cm
Fahrer/ Rider
| | |
| --- | --- |
| max Belastung / Loading limit | 150 kg |
| ca. Größe/ Min. height | 150 cm |
---
---
Der Cross ist ausgestattet mit hydraulischen Scheibenbremsen und einer vom Lenker aus sperrbaren Federgabel. Durch die Gabel und die Rahmenkonstruktion ist genügedn Bodenfreiheit vorhanden um auch auf unebenen Waldwegen sicher zu fahren.
{ "@context":"http://schema.org/", "@id": "https://www.fun-wheels.de/yedoo-mula-v-brake-red-tretroller-dog-scooter/tretroller_55301275_8547#faq", "@type":"FAQPage", "mainEntity": [{"@type":"Question","name":"Ist der Crussis Cross f\u00fcr Dogscooting geeignet.","answerCount":1,"acceptedAnswer":{"@type":"Answer","text":"Der Cross ist ausgestattet mit hydraulischen Scheibenbremsen und einer vom Lenker aus sperrbaren Federgabel. Durch die Gabel und die Rahmenkonstruktion ist gen\u00fcgedn Bodenfreiheit vorhanden um auch auf unebenen Waldwegen sicher zu fahren."}}] }